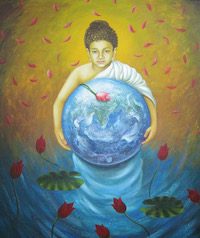 Jennifer Wasmer coaches Authentic Communication. She is a master communicator who believes that communication is an act of love and that it always starts with the communicator.
Self-Study
Jennifer invites her clients to begin their journey with her with self-study — including coaching, values alignment, meditation and yoga.
Intentional Listening
Having strengthened their foundation in enhanced self-awareness, Jennifer's clients are then better able to connect with others through intentional listening and to cultivate powerful authentic communication skills to express their truth in ways that foster deeper relationships, more meaningful work, and greater peace in all domains.
Gratitude
Jennifer is also a deep believer in the alchemical nature of gratitude, which is always available to everyone and changes everything. She creates an environment for others to marinate in the goodness of gratitude through a video series called "Gratituders In Action", which features people from around the world sharing their appreciation and thankfulness.
Connect
Her company is DaySpring Communications.
Testimonial:
It's such a privilege to learn from an expert,
and Jennifer is without question
​a leading authority on communication.
Our team is better thanks to her work with us.
– Rob Acton, Founder & CEO of Cause Strategy Partners
From DaySpring Communications Website:
One of the key lessons from the pandemic has been the importance of company culture to attract and retain talent. The Great Resignation and the modern hybrid work environment have thrown up new challenges for how to engage people so they feel connected to their work, each other, and a sense of purpose – all of which help produce optimal business outcomes.
Authentic Communication is a professional development program that strengthens organizational culture by advancing interpersonal communication skills. It cultivates fresh perspectives, invigorates teamwork, and unleashes capacity to meet ever-emerging challenges. These outcomes foster resilience, commitment, and success for individuals, teams, and businesses by focusing on the essential role our communication plays in nourishing (or depleting) strong, healthy human connections…..
Links:
DaySpring Communications: dayspringcommunications.net
Email List Sign-up: https://www.dayspringcommunications.net/join-our-email-list.html
LinkedIn: https://www.linkedin.com/in/jennifer-wasmer-0391902/
Gratituders In Action: https://www.youtube.com/playlist?list=PL6xRjYEpbB2K_STag19VA4ceY0yHstyCg
From AOHMassage
Values & 5-Elements is another way to learn more about yourself and others in your life and use nutrition to support yourself and others.
Couples Massage is a way to cultivate authentic communication of touch with your partner.
I liked this photo too to illustrate this post because of the way the couple is joined by the hands. Gosh! What it takes to do Life!!!
Enjoy! Have A Great Summer!!!! Alvina